The Classic Swim Course
The Swim course runs roughly parallel to the Newport Bridge. The finish in Jamestown is around Taylor Point in Potter Cove. Use the two green Coast Guard navigation buoys to guide you out of the start.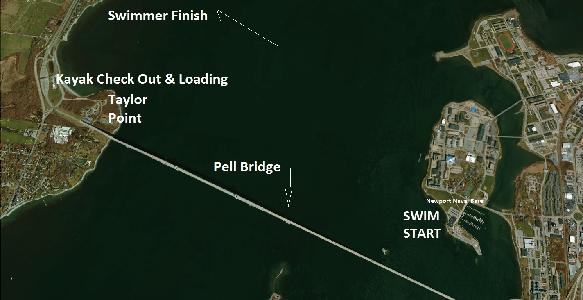 Swimmers with Kayakers should swim toward the green can buoy and meet up with your kayaker there.

Taylor Point in Jamestown is marked with orange netting, reflective sheets and a large balloon.

There will also be a yellow buoy near Taylor Point.

As swimmers approach the Jamestown side, you will pass to the right (or north) of Taylor Point.



As kayakers approach the Jamestown side, you will go to the left of the swimmers (South) to the Kayak Check Out Tent.

After you round the point, you will see the finish area.


Be aware that the Bay bottom at the finish line is soft with rocks and holes, so please walk carefully.
The Finish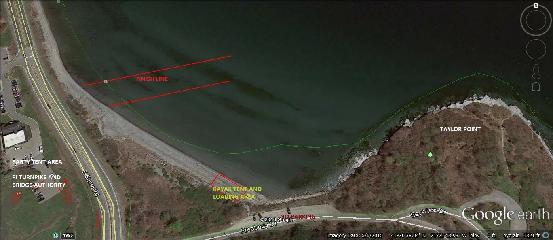 The finish is marked by two boats, one draped in orange netting. Swim between the two boats. Once you cross the finish line, you will be given a numbered position marker from staff. Be sure to hand this marker to the "Pink Ladies" near the check-out area when you reach the shore. All swimmers MUST turn in their position markers when they get to the finish at Potter Cove in Jamestown. This is out only way of knowing that you have arrived safely!
Kayaker Checkout and Loading

Once kayaks pass Taylor Point, you will be able to see a large tent marked KAYAKER CHECKOUT on the beach. Kayakers will steer toward the tent on the left (South) in the opposite direction of the swimmers and pull the boats onto the beach to check out. Kayakers will hand staff their vest and receive their kayaker t-shirt.

Kayak Loading

Kayaks can be loaded onto vehicles on Freebody Drive. There is will no permanent parking on Freebody, it's for loading kayaks only.
Once your kayak is loaded, you will continue on Freebody to exit.